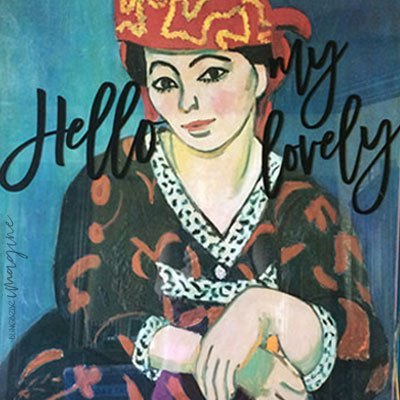 Just like a temporary tattoo… but for your prints! I had my eye on this amazing Matisse print at the antique mall for a really, really long time. I just love her expression and the blue…!!! I didn't think she'd wait for me but we must have been meant to be together. When it finally went on sale I bought it. It's not that it was really expensive, we are just really frugal. That was a few years ago and it's time for a change. I still love her but being 24/7 creative, I need constant change. (Insert *sigh* from husband here. His strategy to decorate in Victorian so it would never go out of style backfired when he met me. Ha!) Anyway… I thought she'd make a good candidate for this project as she seems to be saying "Hello My Lovely".
This is a no-regret way to change things up with your decorating. When I'm tired of this graphic I will just peel it off and make another. Or not.
I started by measuring the space and marking it on the glass with tape as a guide.
I had taken a picture of the print and brought it into Photoshop where I mocked up the design. This also helped me determine the sizes I would need to cut out of the vinyl.
I cut out the graphics with my Silhouette Cameo. How to link here. Make sure to apply the graphic to the GLASS of your framed print and never the actual print. That would be instantly permanent and instantly regrettable.
Download this graphic or get the font Madina Script here.